With its rich soils, and reliable rainfall, the Glenelg Hopkins region is home to a vibrant food and fibre sector, including red meat production, grains and cropping, wool, dairying, acquaculture and forestry. The region is one of Australia's most productive agricultural regions producing agricultural commodities with a gross value of $ 2,891.2 million in 2018-191; and is of national significance for its food and fibre production.
Assessment of current condition and trends
In 2018-2019, the Glenelg Hopkins region was ranked 1st for gross value of agricultural commodities produced among Victoria's 10 NRM regions (Figure 1) and was:
Australia's leading producer of sheep, lamb and wool products ($1,216 million).
The third-largest producer of whole milk ($448 million).
The largest producer of cattle and calves in Victoria.
The emerging cropping industry produced grains and oil seeds with a gross value of $451 million. In 2018-2019 the Glenelg Hopkins region was ranked 1st for gross value of agricultural commodities produced among Victoria's 10 CMA regions (Figure 1). Since 2010, Glenelg Hopkins has consistently ranked in the top 5 NRM regions nationally.
While the vast majority of agriculture is dryland, in 2017-2018, irrigated agriculture generated commodities with a value of $199 million, about 9% of the region's total2. From 2017-2018 to 2018-2019, the value of horticulture and viticulture irrigated produce grew by almost 50%. Increased interest in accessing groundwater suggests irrigated agriculture production is set to increase within the region.
Offshore, the region is home to significant wild catch fisheries. Ports in Warrnambool, Port Fairy and Portland support a diverse range of commercial fishing enterprises including abalone, pipi, southern rock lobster, wrasse, southern and eastern scale fish and shark, southern squid and sea urchin. In 2016-2017 the region accounted for 14% of the 15,032 tonnes of seafood professionally caught in Victoria and contributed $41.7 million of added value to the Victorian economy, as well as 352 full-time jobs3,4.
Figures 2 and 3 show the gross value of agricultural commodities produced in the Glenelg Hopkins region in 2018-2019. Livestock (sheep and lambs, and cattle and calves) were the biggest contributor to the total value of agricultural commodities produced, followed by wool, crops and milk.
The gross value of agricultural production within the region has gradually increased over the past decade, from around $1.67 billion in 2009-2010 to around $2.7 billion in 2018-2019 (Figure 4) – with significant variations in agricultural production over this period for individual commodities, depending on environmental and economic factors. The value of sheep, lambs and wool commodities has increased significantly since 2009-2010, from around $538 million in 2009-2010 to around $1,215 million in 2018-2019.
Several trends are evident for the Glenelg Hopkins region based on an analysis of Australian Bureau of Statistics (ABS) gross value of agricultural commodities data from 2016 to 2019. Over this period:
The value of agricultural commodities increased for all major industry categories, except dairy.
The gross value of commodities produced under the category 'Other Agricultural Industries' increased by $5 million from 2016 to 2019. These industries include horticulture, viticulture, pig and chicken industries.
Broadacre cropping commodity values rose dramatically, despite a significant fall in 2017-2018, achieving an average annual growth rate of 42% over the period.
Cattle and calves has remained fairly steady, with an average annual increase of 5%, however fluctuations in commodity returns saw significant rises and falls in the value of commodities produced over this period.
The gross value of sheep, lamb and wool commodities produced increased 32% from 2016 to 2019 – with animals sold for meat rising by 42% and wool by 25%.
The gross value of whole milk fell each year at an annual average rate of 6%.
Fisheries production is expected to grow in value when world markets open up after COVID-19 shutdowns. Demand for the region's rock lobster and abalone exports is expected to quickly return to pre-COVID levels5.
Major threats and drivers of change
Climate change
Future projections for the Glenelg Hopkins region indicate that drought risk will increase. Temperatures are predicted to increase in all seasons, with 21% higher mean temperatures, up to 38% less rainfall, and more extreme weather events by 20707. This is expected to have positive and negative impacts on food and fibre production. Extended growing seasons may increase productivity for some primary producers, while more frequent and extreme events such as heatwaves, frosts and heavy rainfall may result in production decline for others9. Anecdotal evidence indicates that more extreme climate change predictions in other Victorian and Australian regions are motivating farmers to buy farmland in the Glenelg Hopkins region.
Increased demand for food and fibre
The world's population is predicted to increase from 7 billion to almost 10 billion over the next 30 years, significantly increasing global demand for food. Prospects for food and fibre export growth are further bolstered by a growing global middle classes, particularly in Asia10.
The National Farmers Federation has established a bold vision for the Australian agricultural sector to achieve $100 billion in farm gate output by 203011. Based on current projections, the industry is forecast to reach $84 billion by 2030. The Glenelg Hopkins region has the potential to increase farm gate output to help achieve this target through the sustainable use of the region's groundwater resource, and the potential to expand irrigated agriculture within the southern part of the region – building on the region's already dominant position in dryland agricultural production. Community initiatives such as the food+fibre Great South Coast are bringing government and industry together to drive value-adding to primary produce through secondary processing, sustainable use of natural resources, and creating career and training opportunities that will continue to build regional prosperity.
"Already a food and fibre powerhouse, our region has enormous potential as well as an economic imperative to grow its food and fibre output"

Great South Coast Food and Fibre Strategy 2021
Traditional Owners have cultivated bushfood and medicinal species to sustain populations and trade over millennia. The recently developed Victorian Traditional Owner Native Food and Botanicals Strategy supports the growing need to restore and reclaim the knowledge and practices associated with native bushfood and botanical species provenance, propagation and use. The industry has rapidly expanded over the past decade as wild harvest and commercial native food production tries to meet demand for food and pharmaceutical markets. As the industry matures, opportunities exist for Traditional Owners to lead innovation in the industry, and also enable and strengthen their social, cultural and economic connections with
High-value, water secure agriculture and horticulture precincts
South-west Victoria has better access to water than most farming regions in Australia and has extensive groundwater supplies that are under-utilised. Based on the most recent published technical estimates, the region's aquifers are thought to hold a total volume of 300,000 gigalitres, with an estimated usable volume of 150,000 gigalitres of which 0.8% (79 gigalitres) is allocated for use. This is augmented by relatively good rainfall12.
A limitation for horticulture commodities is ready access to reliable quality water supplies. The Great South Coast Economic Futures Final Report (2020) identifies "harnessing the region's under-utilised water resource sustainably so as to generate more value in modest-scale, fully water-secure precincts employing modern approaches to water use, high value production, research and innovation" as a high-value economic development pathway for the region, and significant opportunity for increasing agricultural output13.
The report notes that a cautious approach to the groundwater asset is required, and that "only a fraction of these vast aquifers would ever be exploitable sustainably for agricultural and horticultural use", as the science surrounding sustainable recharge rates is not yet entirely settled and the region's aquifer system must be in a position to recharge itself14.
Early start paddock walk – Pasture Tech project
Interest in irrigation is growing across the region
Diversification and innovation in agricultural production is an opportunity for the region
New crop growth on retained stubble
Photo: Victorian No-Till Farmers
Degraded rural drainage systems in dryland agricultural areas
Poorly functioning drainage schemes can have a significant impact on agricultural productivity through increased waterlogging. There are 46 individual drainage schemes in the Glenelg Hopkins region draining about 197,460 ha (Figure 5). The majority are private or informal schemes, with only 23 gazetted (formal) schemes draining 8% of the region15.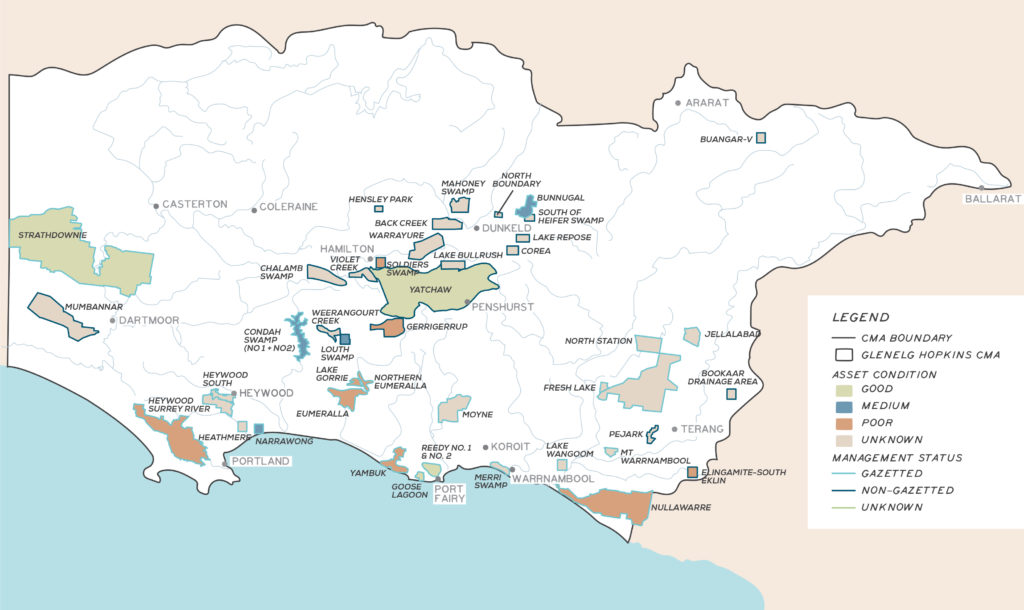 Figure 5. Location of rural drainage areas in the Glenelg Hopkins Region (Victorian Government, 2013)
The condition of many drainage schemes has gradually declined over the decades, due to:
Complex and confusing regulations and approval processes16.
Lack of maintenance, especially during the 10-year Millennium Drought (1997-2009).
Landholder relationship changes as properties have changed hands.
Restoring rural drainage schemes after the wet years of 2010-2012 has proven difficult, resulting in frustration for landholders17.
Addressing the challenge posed by the complex array of legislation applying to regulation of drain maintenance works has been a key objective of the 2018 Victorian Rural Drainage Strategy (VRDS)18. The VRDS provides a way forward to improve dryland rural drainage management by:
supporting landholders to make choices about how they want to manage dryland rural drainage.
clarifying roles, responsibilities and obligations for landholders and agencies in dryland rural drainage.
simplifying the approvals process.
Resumption of active drainage maintenance is being undertaken in the Nullaware and Eumeralla drainage schemes, significant dairying and grazing areas, as pilots of the region.
While dryland rural drainage is important for agricultural productivity in the Glenelg Hopkins region, it has also reduced the region's wetlands; and can impact water quality in receiving waters. A key focus of the drainage strategy is the adoption of practices that minimise or avoid environmental or cultural impacts and initiatives that create greater awareness of landholders of their obligations19.
Digital innovation in agriculture
The Victorian Government's new agriculture strategy for agriculture identifies modernisation as a core theme for agriculture to thrive over the next decade. New digital technologies could lift production by 25% on 2014-15 levels20. Key enabling technologies include sensors and the Internet of Things (IoT). Monitoring advances in satellite, and other remote sensing technologies is vastly increasing the data available to support farmer decision making. Digital technologies, including precision agriculture (e.g. variable rate technologies), drones, weather stations, soil moisture probes, and trough, tank and gate sensors, can improve farm practices, reduce production costs, and support productivity gains. Key barriers to uptake of digital technologies include digital connectivity, digital literacy, cost and investment rationale (demonstrated return on investment)21. Regional adoption of new technology will be increased through demonstrating advantages in efficiencies, risk reduction and profitability.
Nullawarre main drain looking upstream from Skuses Road Bridge – April 2019
The adoption of smart farming technology supports farm decision making
Outcomes and priority management directions
Outcomes and priority management directions have been developed to show what success looks like for integrated catchment management (ICM) across the Glenelg Hopkins region. Below is the 20-year (long-term) outcome for sustainable primary production. Within these are the proposed six-year outcomes and priority management directions to be achieved within the life of this strategy. The priority management directions are identified across the adaptation pathway stages of resilience, transition and transformation (see RCS approach for more information). Leads and key partners involved in delivery are also outlined.
By 2042, there is an increase in the capacity of land managers and agriculture systems to adapt to significant changes in climate and market demands
6 year outcome, by 2027...
Resilience management priority
Transition management priority
Transformation management priority
Lead or coordinating responsibility
Delivery partners
1800 land managers have the capacity to manage land for production and complementary biodiversity outcomes.
Support farm businesses to develop plans with a focus on risk management and building resilience.

Support farm businesses to develop nutrient management plans.

Promotional campaigns share and celebrate regional agricultural success stories.
Identify and promote land management options that have simultaneous production and environmental benefits including efficient use of fertiliser (nutrients).

Support land managers in meeting their responsibilities as active stewards of the catchments land, water and biodiversity.

Support community groups to deliver programs that increase knowledge and build capacity of land managers in sustainable agriculture.

Land managers are supported to consider changes to hydrology resulting from land use change, potential downstream impacts and pro-active management actions.

Collaborate with regional partners to lift regional productivity, sustainability and prosperity.
Farm businesses adopt plans to manage business and environmental risks and nutrients.

Farm success stories, including learnings from demonstration trials, are publicly available.

Soils data is publicly accessible through the Soil Knowledge Data Base.
Glenelg Hopkins CMA
Agriculture Victoria, agricultural industry groups
Two regional post-secondary education and training providers are supported in filling skill gaps and workforce shortages in the agriculture industries.
Support programs to increase community awareness of skills and career opportunities in regional agriculture.

Support a culture of continuous education and training in agriculture.
Integrate accredited skills training into agricultural extension activities.

Partner with training providers, to produce tailored training packages to fill skills gaps.

Collaborate with regional partners to attract skilled people to the food and fibre sector.
Accredited skills training opportunities are included in agricultural extension activities.
Glenelg Hopkins CMA
Agriculture Victoria, agricultural industry groups, SW Tafe
100 land managers have the knowledge and capacity to adapt to and mitigate the impacts of climate change.
Support programs that promote land use and practices that manage climate impacts and risks.
Support study tours to visit other farming systems impacted by climate change, and showcase actions taken and lessons learnt.
Support research into crop and pasture species suited to the region's changing climate.
Glenelg Hopkins CMA
DELWP, Agriculture Victoria, Landcare groups, Local Government, agricultural industry groups
25 land managers are supported to make informed decisions about market access, diversification, value added and niche market development.
Support programs that raise awareness of market opportunities and sustainable adoption.

Establish industry partnerships to support and develop key initiatives such as research, extension and development.

Support programs that raise awareness of market opportunities and sustainable adoption.
Glenelg Hopkins CMA
Agriculture Victoria, Great South Coast Food and Fibre
100 land managers have increased capacity for adoption of innovative agricultural practices and technologies within sustainable farm management.
Conduct survey to establish baseline information for current adoption of innovative agricultural practices and technologies within sustainable farm management.

Establish partnerships with research organisations.

Promotional campaigns highlight and celebrate regional innovators.

Programs are delivered to support land manages to increase water use efficiency.
Develop demonstrations and trials to support land managers in trialling emerging technologies.

Collaborate with regional partners to support innovation to achieve sustainable production and to protect natural resources.

Support farmers to understand how to maximise water use and energy efficiency for irrigation.
Support land managers to undertake farm demonstration trials of new and emerging technologies.
Glenelg Hopkins CMA
SW Tafe, Deakin University, Agriculture Victoria, DELWP
Traditional Owners lead the regional development of the native food and botanical industry.
Traditional Owners are supported to restore and reclaim knowledge and knowledge systems associated with native foods and botanicals.
Traditional Owners are leading the contemporary uses of biocultural species in the market, including the development of trial sites.
The native food and botanical industry is strengthening Traditional Owner social, cultural and economic connections with Country.
Gunditj Mirring Traditional Owners Aboriginal Corporation and Wadawurrung Traditional Owners Aboriginal Corporation. Additional partners TBD.
Great South Coast Food and Fibre, Agriculture Victoria
A drainage management plan is developed for the Condah drainage scheme.
Implementation of actions within developed Drainage Management Plans area supported.
Drainage management plans are developed for priority rural drainage schemes.
Traditional Owners and community are supported to implement improvements to the Lake Condah drainage scheme.
Glenelg Hopkins CMA
Landholders, Local Government, Agriculture Victoria, DELWP
Key strategies and plans that relate to the delivery of sustainable primary production outcomes include:
Water for Victoria
Digital Agriculture Strategy
Great South Coast Regional Growth Plan
Great South Coast Food and Fibre Strategy
food+fibre Great South Coast Strategic Plan 2021-2023
Victorian Traditional Owner Native Food and Botanicals Strategy
2030 Dairy Sustainability Goals and Targets
The Australian Beef Sustainability Framework
National Soil Strategy
National Farmers Federation – 2030 Roadmap
Drought Resilience Funding Plan for 2020 to 2024
GRDC Strategic Plan 2005-2025
Strong, Innovative, Sustainable: A new strategy for Agriculture in Victoria
Dairy Australia Strategic Plan 2020-2025
South West TAFE Strategic Plan 2019-2021
Victorian Rural Drainage Strategy
Glenelg Hopkins Climate Change Strategy
Victorian Government Climate Change Strategy
Agriculture Sector Pledge