Ngatanwarr – Welcome
The Gunditjmara people are the recognised Traditional Owners for the south-west of Victoria, and have a rich living culture whose heritage is embodied in the landscape.
There are many landscapes within Gunditjmara Country – Nyamat Mirring (Sea Country), Tungatt Mirring (Stone Country), Bocara Mirring (River Country) and Woorrowarook Mirring (Forest Country) – connecting Gunditjmara Traditional Owners to Country through dreaming stories, language, oral histories, cultural law/lore and customs. This heritage is a vital legacy for the Gunditjmara Traditional Owners today and in the future.
There are many special cultural places in Gunditjmara Country and these must be protected. These places are important culturally and spiritually to the Gunditjmara Traditional Owners who care for them and who continue their connections to the land today.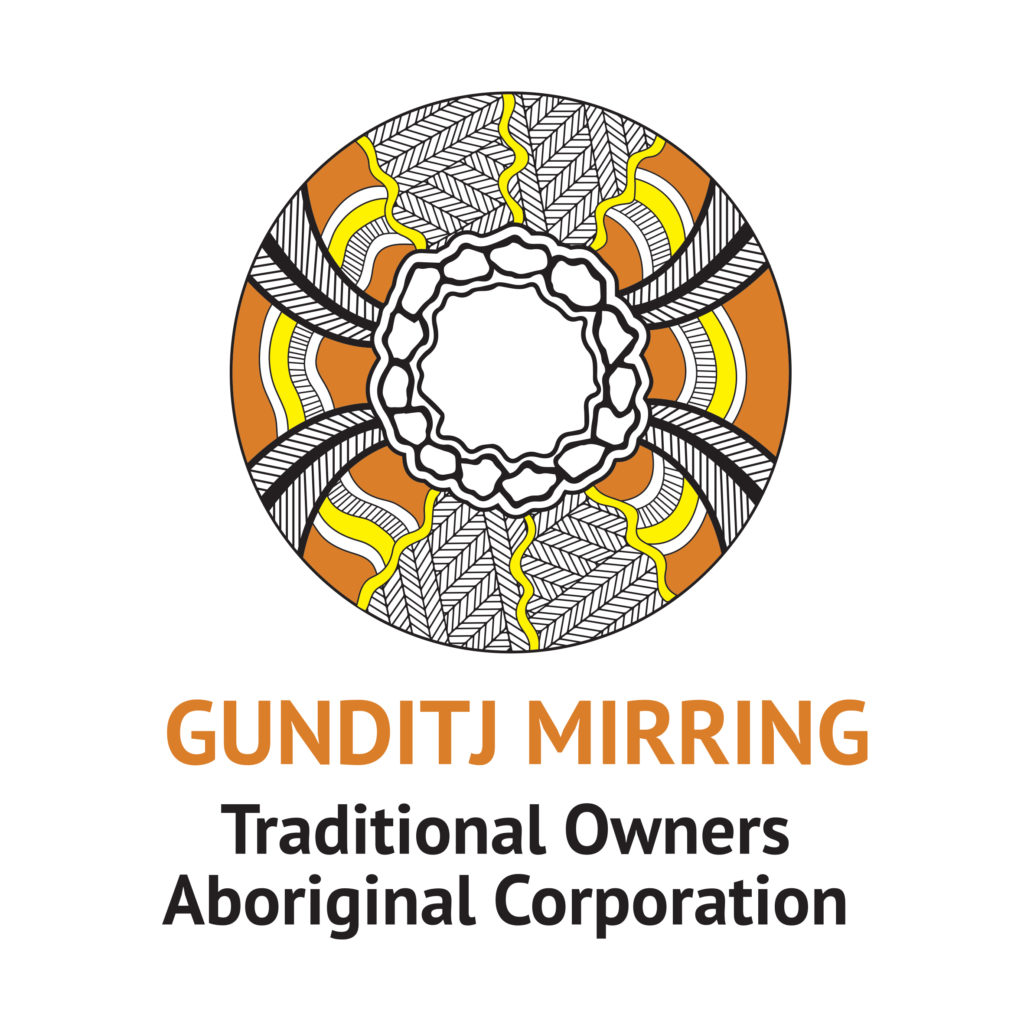 About us
Gunditj Mirring Traditional Owners Aboriginal Corporation (Gunditj Mirring) was established in 2005 by Traditional Owners to progress Gunditjmara rights and interest in native title, cultural heritage and caring for country. The corporation is a Registered Native Title Body Corporation under the Native Title Act 1993 (Cth) and a Registered Aboriginal Party (RAP) under the Aboriginal Heritage Act 2006 (Vic). It is community-controlled, governed by Gunditjmara Traditional Owners and an elected Board of Directors. Gunditj Mirring brings together Gunditjmara Traditional Owners for discussions and decision making. Gunditj Mirring engages with other Aboriginal community organisations and the broader community through partnerships, collaborations and a variety of projects.
Through Gunditj Mirring, Gunditjmara people ensure that the responsibilities and duties which arise under Gunditjmara law, custom and beliefs are carried out in relation to caring for country and the protection and continuation of Gunditjmara law and culture. On behalf of the Gunditjmara community, the corporation owns and manages a number of culturally significant properties along the Budj Bim National Heritage Landscape. All properties are declared Indigenous Protected Areas (IPAs) and are managed for their cultural heritage and biodiversity values.
Gunditjmara are connected to all their traditional Country, and along with the Budj Bim landscape other important places include Bochara (Glenelg River), Gariwerd (including Grampians National Park) and the cliffs, dunes, wetlands and estuaries of the coast and sea Country from the South Australian border to Yambuck. Gunditjmara Country means the whole of the environment including nature and heritage, and material and spiritual components.
Gunditjmara-owned properties
Gunditj Mirring and Winda-Mara Aboriginal Corporation have freehold properties totalling 3,200 hectares along the Budj Bim Cultural Landscape. The properties are declared as Indigenous Protected Areas (IPAs) by the Gunditjmara community owners and recognised by the Australian Government.
The IPAs are part of the Budj Bim Cultural Landscape, which was listed on the World Heritage Register in 2018. The UNESCO World Heritage listing states that:
The Budj Bim Cultural Landscape is the result of a creational process narrated by the Gunditjmara as a deep time story. For the Gunditjmara, deep time refers to the idea that they have always been there. From an archaeological perspective, deep time refers to a period of at least 32,000 years that Aboriginal people have lived in the Budj Bim Cultural Landscape. The ongoing dynamic relationship of Gunditjmara and their land is nowadays carried by knowledge systems retained through oral transmission and continuity of cultural practice.

UNESCO
In these properties, and in Gunditjmara Country overall, Gunditj Mirring priorities are to improve the health of the Country in the long term and restore it to a rich, healthy and diverse condition. Much has been achieved in the Budj Bim landscape, with the restoration of water to Lake Condah, and flows through the Tyrendarra wetlands. To help achieve these goals Gunditj Mirring works in partnership with government agencies and non-government groups.
Lake Condah, Budj Bim Cultural Landscape
Gunditj Mirring and Glenelg Hopkins CMA – a long standing partnership
Gunditj Mirring and Glenelg Hopkins CMA have created a strong and enduring partnership founded on mutual trust and respect over many years. In 2016 Gunditj Mirring and the CMA ratified a formal partnership agreement which records the principles that underpin the work we do together. We have been looking after Country together for more than 20 years, and confidence in the partnership has grown from year to year.
The Partnership Statement outlines the commitment of both Gunditj Mirring and Glenelg Hopkins CMA to continue their partnerships with the aim of a more sustainable and resilient future for the health of people and country.
We have a productive and collaborative partnership that we will use to further restore, protect and enhance the natural and cultural landscape of our region and the well-being of our community.

Vision, Gunditj Mirring and Glenelg Hopkins CMA Partnership Statement
Partnership signing- Damein Bell (CEO Gunditj Mirring), Kevin Wood (past CMA CEO), Denis Lovett (Chair of Gunditj Mirring Board), Tony Ford (CMA Chair)
Our concerns and priorities for Gunditjmara Country
Concerns
Key concerns and threats to Gunditjmara Country include:
Climate change – reduced rainfall and runoff, high temperatures and more fires, rising sea levels, coastal erosion and loss of cultural heritage.
Stock on water frontages causing damage and impacting water quality.
Trees and falling limbs damaging eel aquaculture system, including fire damaged trees.
Blue gum and other forestry plantations impacting ground water and hydrological systems.
Weeds and feral animal impacts, particularly on cultural heritage sites.
Carp, Murray cod and other introduced species in Rocklands Reservoir and Bochara (Glenelg River).
Diversions of water from Bochara and the Wannon River.
Illegal fishing and wildlife harvesting.
Sand pumping and dredging in the Portland Harbour.
Inappropriate public access to coastal environments that damages cultural heritage, including four wheel drive use along dunes and beaches.
Water in the aquaculture channels, Lake Condah
Tyson Lovett-Murray and Craig Oliver talking about cultural landscapes – Yarns on Farms
Learning about eDNA testing along Bochara with Budj Bim Rangers
Glenelg Hopkins CMA staff learning about coastal middens from Tya Lovett (Aboriginal Victoria) and Tyson Lovett-Murray (Gunditj MIrring)
Priorities
Below are the key priorities for managing Gunditjmara Country. These priorities have been captured in the broad themes of water and wetlands, our community, plants and animals and sea Country.