In the early 2000s, the Glenelg Hopkins CMA, in conjunction with community groups and other agencies, commenced the Glenelg River Restoration Project. It was an ambitious project aimed at the long-term restoration of biodiversity values and river health. The major challenge has been the scale and broad nature of threats to the river system.
More than 700 landholders have been involved in implementing key activities such as waterway fencing and revegetation, off-stream watering and stock crossings, weed control, removal of fish barriers, carp monitoring and eradication, erosion control structures, sand extraction, in-stream woody debris reinstatement and upgrade of facilities to support environmental flows. This includes:
2000 km fencing = 2.4 trips between Melbourne and Adelaide
550,000 trees and 796 km direct seeding = 124 MCGs
2784 ha weed control and 18,2000 ha inspected
43 erosion control structures
12 fish barriers removed opening up 977 km waterways for fish
870 pieces of large wood placed in waterways.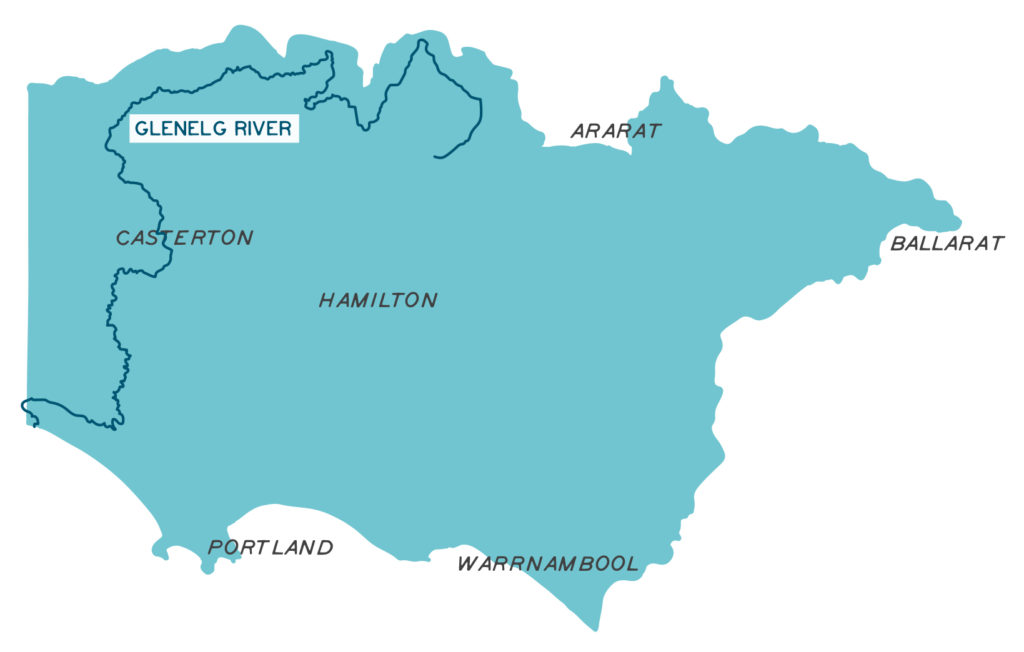 Through this work and the Glenelg River water for environment program, benefits are starting to be seen. Deep water holes of up to three metres have re-scoured, and some river reaches have been stabilised through stock exclusion and native vegetation restoration. Several native fish species have extended their range by hundreds of kilometres within the river system.
More recently, two Australian grayling have been found in the Glenelg River for the first time in 122 years. Australian grayling rely on appropriate flows to trigger adult fish to move upstream to spawn, and juvenile fish to return to their nursery areas in the ocean and estuaries. Altered river flows and barriers to fish movement have contributed to a dramatic decline in this species, which was once abundant throughout the coastal rivers of southeastern Australia.
Other positive outcomes from improvements in river health and flow connectivity along the Glenelg River include:
A tenfold increase in numbers of the critically endangered variegated pygmy perch (Nannoperca variegata)
More than doubling of the numbers of river blackfish (Gadopsis marmoratus)
Increases in migratory species movement between fresh and saltwater habitats, including estuary perch (Macquaria colonorum), tupong (Pseudaphritis urvillii) and black bream (Acanthopagrus Butcheri) which are moving significant distances upstream – 270, 240 and 70 kilometres respectively.
Even though the river has started to bounce back, there is always more to do. River restoration can take decades. A significant achievement for the Glenelg community however, was winning the International River Foundation's (IRF) 2013 Australian Riverprize for their collective efforts.
Revegetation site along upper Glenelg River
| Area | Description |
| --- | --- |
| Partners | Arthur Rylah Institute, Victorian Fisheries Authority, DELWP, Victorian Environmental Water Holder, Glenelg Hopkins CMA |
| Investors | Victorian Government's $222 million Water for Victoria initiative |
| Related Strategies | Glenelg Hopkins Waterway Strategy 2014-2022 |